The force behind the JASA innovations
Programmer Joost Breed joined JASA in 2016. Ever since he has contributed to many innovations that see the light of day at JASA. High time to have a talk with the force behind JASA's innovations.
What do you do in your free time?

"I am married and have a teenage son, Martijn. Besides my family and work, I spend my time on a variety of hobbies.
I entertain myself with small electronics projects, mountain biking, playing classical guitar, and brewing beer. I love that kind of diversity."


What is typically Joost?

"I'm always working on new things. That can be learning new programming languages, trying new hobbies, or something completely different. As long as it's something new.
So I have had all kinds of hobbies, from model plane flying to practicing aikido. I entertain hobbies like that for a few years, and then the thrill is gone, and I look for something new."


Did any hobby stick with you?

"I like the electronics projects the best. Those allow me to continue to develop and learn new things.
I love working in the R&D department; I get to invent, create and do new things every day. This job is right up my alley."


Which person would you like to meet someday?

"John Williams. He's a well-known classical guitarist. I don't think he plays anymore, but I would love to see him perform one day.
By the way, I go to classical guitar concerts regularly, and I attend those with my father. We go to the concert hall thrice a year and have been doing that for over 20 years."


What personal characteristic are you most proud of?

"The fact that I figure out everything by myself. In the past, I was often the only programmer in the shop. If there was anything to be done, I had to dive in myself, as help was simply unavailable.
That's the common thread throughout my life, though. I didn't study for this line of work; instead, I rolled into it and figured out everything on my own. And I'm kind of proud where that has gotten me."


What did you want to become when you were younger?

"Paleontologist or archaeologist. A completely different ballgame, haha. Those plans were dropped when I was in junior secondary school (MAVO), and my father brought home a construction kit one day. I found that so fascinating that it caught me for life.
Yet after graduating from Technical College in Electronics and Telecommunications (HTS), I went on to do something completely different. At that time, there was not much work in electronics, but programmers were in high demand, and that is how I ended up in this field.
It was during the time of the Internet bubble, immense fun. So for a few years, I worked at a firm at the Museumplein in Amsterdam developing websites for companies like Motorola, Erikson, and Heineken."


How did you end up at JASA?


"Over time, I started developing web applications at another company. A fun job, but I missed the technology. I'm a techie, but I was doing office work at that time. Sitting in front of a computer all day is really not my thing.
I well remember that one Saint Nicholas' Eve, my sister's friend told me about JASA, and that got me excited. When I looked at their website, I saw a job opening for a . NET Developer, which I immediately responded to. That was on Sunday, and I went for an interview on Monday. That same Monday night, I had the contract in the mail; that's how fast it can go!"


What exactly do you do at JASA?

"I program PLCs (programmable logic controllers). A PLC is a computer that makes the packaging machine do its job. For example, a PLC collects data from all the sensors and controls all the motors.
When I first started working here, a new type of machine was invented, the JASA Sleever. I worked full-time on that for a couple of years and also traveled a lot to visit and help customers abroad."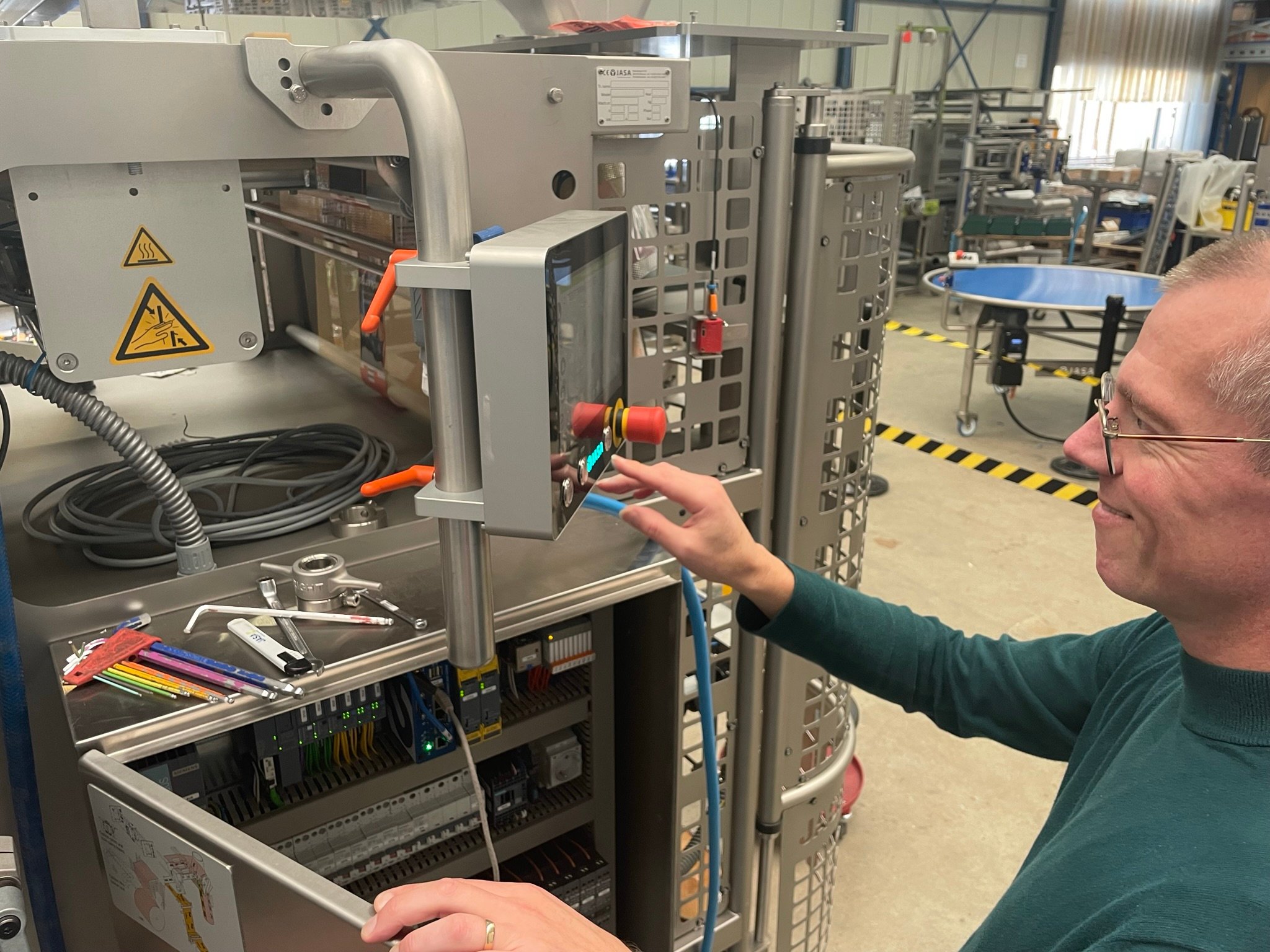 Where did these trips take you?

"I mainly traveled within Europe, to England, Germany, France, and Italy. But at times, I also traveled to the United States. There were periods when I was traveling for a few days every week, and I loved that. That is less the case now, although last month I was in the U.S. for a project.
Currently, we are developing a new innovation for JASA's Vertical Packaging Machine, for which I, later on, will probably get to travel again as well.
I am also involved in various projects, such as robot lines and the Rotary Filler."


What is your role in a project?

"From beginning to end, I am involved in a project since everything depends on the software.
When we design a new packaging solution, a whole team gets to work to make it happen. The team includes a teammate who takes care of the mechanical design and another who handles the machine's electrical components. I write the software that makes the system do what it needs to do. Without software, the machine will not work."


How exactly is that?

"Everything works together. For example, empty trays go into a Rotary Filler, and trays filled with leafy greens come out.
Meanwhile, an awful lot is happening inside the machine. Like, cylinders spinning and stampers moving up and down. I write the software that takes care of all that.
For that, I don't just work behind my desk; I also work on the floor. That's the nice thing about my job; I actually get to stand at the machine looking at the equipment together with my colleagues."


What is the best part of your job?

"The fact that something new pops up all the time, and I'm not spending years working on one machine to make small improvements. New machines and innovations are constantly introduced; hence I start programming from scratch every time. That's simply fantastic!"


What has been the most significant development in the market that you have witnessed?

"The quest for sustainability. A few years ago, things suddenly moved very quickly. Everyone was switching to sustainable packaging and wanted to process paper materials on the packaging machines they already had in place.
A great example is the Bag-2-Paper™. That innovation came through in 2018 and was accomplished on an existing packaging machine. But processing the Bag-2-Paper™ requires new updates to the existing software. Many people think that the hardware needs to be converted in such a case, yet a great deal of the changes concern the software."


Do you have another example?

"Yes, indeed, the industry is always on the go. For example, we now have Industry 4.0. This implies that we connect our packaging machines to the Internet and send all data into the cloud. Think of temperatures and the number of times a cylinder has moved.
We use this data to perform predictive maintenance to prevent a packaging machine from going out of production due to a breakdown. Downtimes cost a lot of money."


What do people not know about your job?

"That I am able to remotely help our mechanics. Occasionally a mechanic is at a customer's site and can't figure out what the problem is. In those cases, I log on to the machine via my computer, observe the mechanic's actions remotely, and can I give clues or directly tweak the software."


How do you envision your next few years at JASA?

"I am a techie at heart and want to work with my hands, and this also means that I do not aspire to take on a management position; I'm happy where I am. So my challenge is not in my career but in my work.
Things are continually changing within the company, so something new always comes my way. And yes, I love doing new things!"